CHOOSING THE RIGHT INTERNATIONAL SCHOOL IN SINGAPORE
Choosing the right international school for your child can be a difficult task. Parents need to consider how a school can meet the needs of their children's future. Parents should look for a 21st-century learning environment that is holistic in nature. A school that develops students' academic outcomes, nurtures core human values and builds real-life skills within a strong cultural environment. Read on and find out why the Hughes family chose IFS.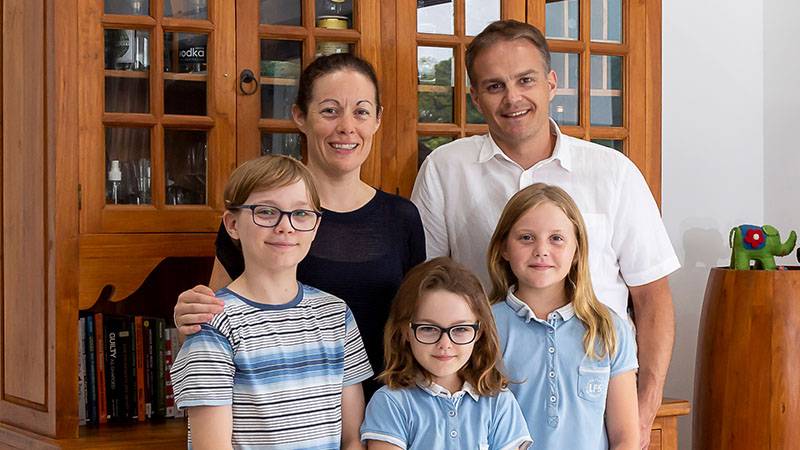 Parents: Emma and Wesley Hughes, Irish
Children: Euan (11), Una (10) and Aoife (7)
"All three kids attend IFS; they've been there for five years. When we arrived in Singapore, we had about six months before we needed to choose a school. We have a connection with France (we have a holiday home there) so almost naturally we visited the school. We felt that it would be a great stage in our children's lives to place them in a non-English speaking system to learn a new language, given that we frequently visit France, even from Singapore.
We joined the school at a time when nearly everyone at the school was French. Our two girls joined kindergarten and our son started in primary school. Initially, it was tough as none of the children spoke French and we, as parents, were frankly quite useless, too! It was easier for the two girls to pick up the language, but Euan struggled initially, being older. However, the school provided extra French lessons to help him get up to speed.
Highlights for us have been seeing the children adapt to a different culture and learn a new language. The children have shown the ability to adapt and learn, which has given them huge confidence. It hasn't been without difficulties but working to overcome them has also been hugely rewarding. The availability of English language teaching has increased exponentially over the time we've been there, along with the general diversity within the school.
The kids have always felt at ease at IFS and have made great friends. The teachers are supportive and engaging and there's a growing community of nonFrench speakers willing to offer support and advice. There's also a Lycee friends group on Facebook where people post questions and get support.
Other enriching elements of school life include the vast array of after-school activities available, from chess and climbing to sewing! Every year, the children have the opportunity to try something different. This also extends to languages. Our son is now in the enviable situation of choosing a third language to learn – again, opportunities we as parents never had!
The school has taken our three children from zero to fluent French speakers, which is quite an achievement. It also has a relaxed nature to it, underpinned by serious academic rigour. For us, the bottom line was that it needed to feel like a 'normal' school and not a franchise or a business entity. IFS does just that and gives the feeling of a community-orientated school."
This piece appeared in ExpatLiving